Bramble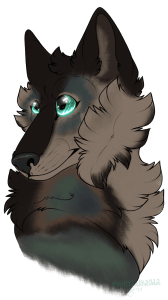 Bramble Carpathius
full name
Summer of Year 18
birthdate

cat claws ✴ lanky ✴ feminine
scent: strawberry, apple, pine
voice: Miss Minutes voiced by Tara Strong
eye color: Bright Emerald
nose/paw pad color: Chocolate Brown
base coat: Her base coat is a sandy tan similar to Briar's base coat that is mostly covered by a dark chocolate. The dark chocolate covers all four paws up to her elbows, over the top of her tail and back, down the bridge of her nose, over both ears, and framing her neck and shoulders.
markings: Her main marking is a two-toned blur of sea foam green and tones of grey that cover her cheeks and around her eyes, on either side of her neck, her shoulders, over her ribs and extending down her thighs and all four legs.
build: Bramble's build will be of dire-height, lanky, and feminine. Keeping a slim build most of her life, she will show a set of well-toned muscles through a slightly thinner coat. Curvy in all the right places, she will have little fat on her from daily exercise and lots of training and patrolling.
differences: Feline claws that are retractable, inherited from Briar
scars/maims: N/A
appearance


✴ our fates live within us ✴
spunky Energetic, optimistic, and always a bright ball of sunshine, Bramble will always be in a good mood with a good attitude toward life.

adventurous While the confines of the castle will be her safety, her home, she will yearn for adventure and socialization. Spontaneous at times, Bramble will never say no to a fun stroll around the lands.

goofball Not a hair of embarrassment lives within the girl so she can be rather silly at times. Finding it fun to antagonize her siblings by sticking her tongue out at them, it might sometimes get her in trouble!

loyal By default, Bramble will be loyal. Nothing will allow her to stray from her family ties.

social extrovert Friends, friends, and more friends? Who can't have enough friends? Why Bramble of course! She can make friends with a rock if she wanted to!

determined Being the opposite of lazy, Bramble will have a determined attitude to prove herself worthy to wear the family name Carpathius.

selfless Anyone who needs help will get it from Bramble. She will drop whatever she is doing to help someone else and really doesn't have a selfish bone in her body.

fear of disappointment Gaining approval from her parents will be extremely important to her. Letting them down will be the last thing she ever wishes on herself.

moody Due to her jovial, energetic, and hardworking nature, Bramble can be moody at times when she doesn't give herself time to rest and recharge. Fair warning, if she seems snotty or snippy, she probably just needs a nap or a snack.
personality
misc
Inventory listing
Icon
Name
Description
Details
Quantity
Dire Wolf Height Pass
Allows height up to 45" on a character.
45"
n/a
Minor Mutation Pass
Allows a single minor mutation to be applied to a new character.
Cat claws (Offensive)
n/a
Odd Colored Markings
Allows a character to have minor markings that are unnatural colors.
n/a
1
Large Companion
Allows for a large companion less than 25" tall (for birds, wingspan of 50" or less; for reptiles, length of 50" or less).
Male Fisher, 45"
n/a
Large Companion
Allows for a large companion less than 25" tall (for birds, wingspan of 50" or less; for reptiles, length of 50" or less).
Female Common Raven, 48"
n/a
Battle Accessory - Defensive
A defensive battle accessory.
green leather cloak with a hood
n/a
Battle Accessory - Offensive

[NR]

[NT]

An offensive battle accessory.
Sharpened & Elongated Canine Tooth Covers
n/a
Large Accessory
Allows for a large accessory.
A decorative tail wrap with a cuff made from Carpathian steel that clasps around the base of her tail, two green and one blue embellished ribbons that tie at the tip of her tail into a bow.
n/a
[NR] indicates a non-refundable item; [NT] indicates a non-transferrable item.
Show used items