Fulfilling promises
Habari
Seraphim

Intermediate Intellectual (40)
Master Fighter (255)


age
3 Years
gender
Female
gems
305
02-22-2021, 02:31 PM
(This post was last modified: 02-22-2021, 02:43 PM by Recluse.)
It was well beyond time for her pack to come together again, her children were old enough now to start training. Not to mention she had to make the two demotions official. The moon had risen above the volcano, the night in full swing at this point. The woman climbed the mountain, her cherry gaze set on a rough outcropping of porous stone. The woman made the climb until she could jump onto the platform. Then the woman threw her head back and called for her pack to join her. Lilith was coiled in her usual spot around the woman's neck.
Then Recluse sat back onto her haunches. Her children would be allowed to congregate at her paws, and they would each be instructed to behave themselves once they did, everyone else would be expected to settle themselves before her. The woman couldn't help but smile a bit, even with all the problems that had beset them early on her pack was flourishing before her, at least for the most part.
OOC. The due date for the first-round is February 28th, attendance is
mandatory
unless I've specifically told you otherwise. Also please remember to sign up your members or pups for
Habari mentorship/apprenticship
as pairs will be announced during the second round, the deadline for signup has been extended until the first round due date.
"Speech"
Think
 Recluse is an M rated character, thread at own risk.
I just got back from moving, please help me catch up by dropping threads I owe here. <3



"Speech"




Izanami was doing great as part of Habari, but her mission of gathering important information wasnt happening as she wanted, and she wondered when would Hattori call for her to know the results. But it wasnt like she was afraid of him, she wasnt afraid of anything and no one, she could stand on her own without him nor anyone following every single one of her steps and moves. Calmly she was patrolling their land, eyes of silver focused on the way that opened before her.

Digits widened upon climbing the rocky terrain around the Volcano. She didnt know why someone would claim a volcano within their lands. This could be a ticking bomb and in any time it could explore. She thought this as foolish but she wouldn't speak out loud about that. Her job here was merely to have a close eye to these wolves. Calmly as she heard the summon, walked forward until she found the leader. Not hers as for the Koi only Hattori had her full respect but all she had to do here was to pretend and that was something she knew how to do pretty well.

She sat down and just observed the alpha but keeping her distance.



I JUST WANT A TASTE
A meeting. Eraithus stretched his jaws open wide in a yawn while he heard the call, jumping to his paws he turned and headed towards the meeting. It really didn't take him long as the mount was a place he enjoyed. She sat and what he could only assume her children would be close behind her, his eyes moved to the only other member in the group at the moment. Someone he had yet to meet other than Mikko.
Eraithus found a seat a bit away from her and Recluse. Hanging back knowing full well he had no right to be elsewhere. Part of him was hoping that would change this meeting. At least so he wouldn't be at the end of the food chain. It didn't matter though he would try his best to serve the family unit as he always had. He needed to remember he was raised in a pack and he very much respected Recluse. His eyes glowed with interest watching the alpha.



Eraithus has a permanant bend in his tail, giving it a crooked appearance. Some of his art does not depict this.
Habari
Dawa Tarshishim

Master Fighter (240)
Master Healer (240)


age
6 Years
gender
Female
gems
690
Deathbelle kept her nocturnal ways even now as her life changed so much. No longer Empress, no longer the center of the known universe, Dethbelle was a much different woman. Now she was heavily pregnant, due to give birth any day now, as she followed the call of her leader. Deathbelle settled easily into a more secondary position, the stresses of life were reduced but her feeling of importance was greatly diminished. Even the father of her children couldn't devote his life fully to her.

There were many regrets that lingered with the aging woman, and they had begun to weigh heavier on her as time went on. Like the weight of the children developing within her belly. Belle waddled forward, thankfully Recluse held the meeting somewhat close to her current den so she didn't take very long to appear at her niece's call.

Her ivory splotches glowed in the moonlight as she did her best to make herself comfortable. The task was difficult these days, but her attention was fully on Recluse.
As her sworn guard Sirius may enter any of her threads
Deathbelle wears a rosebud tiara that is not shown in her art.
The placid babe was wide awake as she welcomed the night sky and she watched patiently as her mother went along her ways to do her duties. For once Carnage removed quiet, observing everything around her and seeing what the activity was about. Her ears would twitch and her eyes widening with wonder as she heard her mother calling all those who resided her. Wasting no time the little girl would skip to the meeting intruiged to see so many wolves in one place and what her mother had to announce. It seemed she was the first upon her siblings but no doubt they would all show. Their were 3 strangers present so far and she would take them all in. They all looked so different! so many colours and sizes!
The pup could keep her thoughts to herself and would not mutter a word moving towards her mother quickly to lean against on of her forelegs in comfort. The little girl couldn't wait for the rest to arrive.
The scrawny half-yearling made good time in arriving to the meeting, and though he was huffing and puffing from the effort it had taken to run from the nook all the way to Recluse's volcano, it was all worth it to see he'd arrived before his dad and brother. If he wanted to be taken seriously in his chosen profession then he had to be on-time for meetings whether they were patient-doctor ones or boring alpha ones. Either way, he had won the race and plopped his butt upon the ground beside his aunt to wait for the other wolves to gather. He didn't anticipate the meeting being very exciting, though he'd sit through it patiently and spend the time imagining instead the
future
meeting where one day he'd be promoted to Dawa Tarshishim just like Deathbelle.
"Speech"
"Thinking"
"You."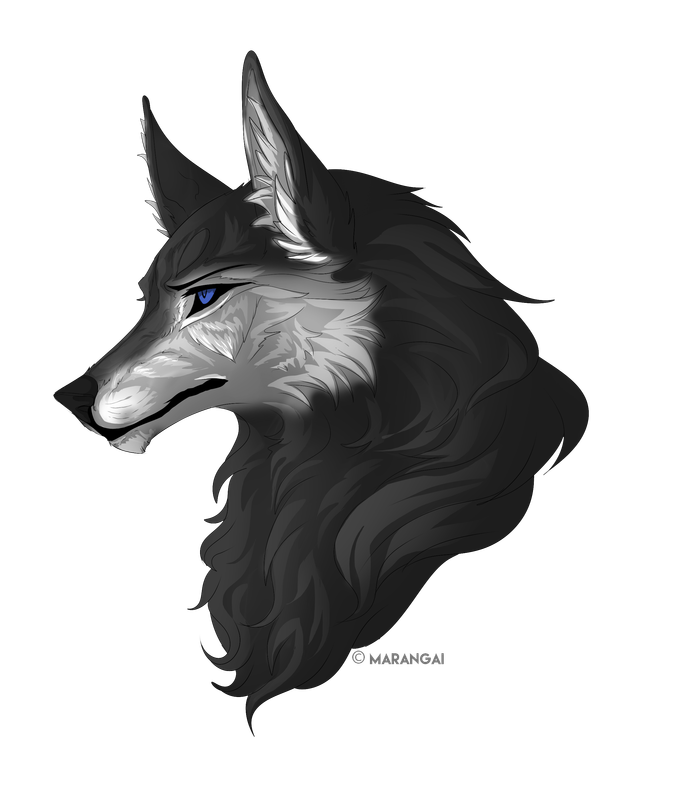 SHIBA KLEIN
Shiba rose to her paws at the sound of Recluse's call, moving quickly to join the pack for the meeting. There were a few others already there, some she recognized, while a few were entirely unfamiliar to her, but even amongst her own kin, the healer felt like a stranger. She wanted to go sit beside her sister, but uncertainty clutched at her, and she instead found a spot to sit quietly on her own. There was so much she had missed and she still didn't really know what had happened to Ashen, or why the former Empress was here and not there. If she had been around, she would have known what happened and maybe she wouldn't have felt so odd here. Her wounds were self inflicted through and would be endured quietly.
"Speech."

Habari
Shujaa Tarshishim

Master Fighter (240)
Master Navigator (240)


age
6 Years
gender
Male
gems
84

Harbringr trudged slowly through the snow as he worked along his patrol route. He'd been feeling unwell the last few days as he struggled to get his mind back to a centered state. His ears flicked back at the sound of Recluse calling the pack to a meeting and he shuffled around to head toward her call. He'd been about done with his route anyway. Ari loped along side him and soon Ginna joined from above. The trio arrived to see a number of other wolves gathered. Harbringr grinned as he saw Jigsaw and he moved to sit by his son, noticing that Áskell had not arrived yet. He hoped the boy hadn't wandered too far from the pack lands. He had a bad habit of finding trouble.





Áskell raced back into Habari's territory with a mountain goat leg clasped in his jaws and a trio of coyotes on his heels. As soon as he crossed the pack border the coyotes slowed and stopped, not willing to risk racing right into a territory belonging to a pack of wolves. Áskell grinned. Success! He'd gotten away with his bit of thievery. He was about to go to the middle of the redbud grove to enjoy his snack when he heard the alphess calling a meeting. Well… at least he had a snack. He looked around at the wolves gathered when he arrived until he saw his father and brother sitting a ways over. He trotted next to his brother and dropped the leg before he began to eat, scooting it toward Jigsaw in case his brother was hungry too.




02-25-2021, 10:46 PM
(This post was last modified: 02-25-2021, 10:47 PM by Kali.)
Mom had gathered them up and instructed them in her 'strict mom' voice that they were going to have a meeting with the rest of the pack, and that they'd needed to be on their best behavior. The girl's bi-colored gaze looked to her brothers pointedly and she lifted her chin, giving her mother a firm nod. Of course she'd be a good girl, she always was.
As Recluse strutted out into the night, so did Kali. She held herself as tall as she could, trying to emulate the Seraphim who she held with great regard. Mom was beautiful and regal and she wanted to be just like her! When the pale woman settled down, the girl did too, Abaddon's dark, still small form curled around her own neck. The snake flickered his tongue up at his mother, but that was as far as their interaction went. Snakes were weird in the fact that they weren't very affectionate with each other, but she supposed that they were snakes, after all.
She sat, the moonlight pouring down over her form so starkly different from her siblings and, apart from the twisting golden markings that had grown bolder over her chocolate pelt and her slim figure, different from her mother. She gave her ear a bored flick.
Talking