In the Name of the Warrior
Knighting Ceremony!
With the meeting out of the way, Acere would beckon those he had promoted to Knights and those who had been previously been a Knight before moving to higher ranks to come stand before him. He looked to each one, pride in his eyes as he looked upon each of them. They had all worked incredibly hard to get to where they were now, and today they would bear new titles that would stay with them until they died. His fox companions along with Dragon's jaguars had gone to the ship to retrieve some items he needed for the ceremony. When they returned, they carried with them several old cloths of white and red, two pieces for each member that was to be knighted. Not only that, but Cloud and Drake had gone out on a quick hunting trip to bring down a moose and an elk, and had brought them back for the post-ceremonial feast. Ignis' companions, had also surprised Ace with their own contributions. Several wine skins they had bartered from a traveling gypsy band some time ago. They had gotten the stuff for their own consumption, but decided to share it all with the celebrating pack. "The Knighting ceremony will begin shortly. Afterwards, we will celebrate your rises to Knighthood, and the wedding to come." His voice was hearty and full of excitement. It had been a while since he had had a good time. For once, he could put aside his usual self and relax with the pack, and he hoped the others would do the same with food and drink. There was much to be celebrated, after all. And they all deserved it, too.

OOC//Mandatory for the following characters: Heloise, Tyranis, Fracture, Dragon, Ignis. Other pack members are welcome to attend and witness their comrades knighting ceremony, and partake in the celebration afterwards! Replies due by 8/27!

speech action

Heloise was not so heavily pregnant that she could not move around easily still. until she was fit to burst, she would continue to do her duties as a knight of Winterfell. the call came easily and she easily answered it with her presence. no way she was missing this. it was both important to herself and to Acere. she wanted to be there to support him and his pack. their packmates. the people she had come to respect and think of as a family. wandering to the ceremony, she saw her mate's proud eyes fall on the ones in attendance. she gave him a warm smile as his crimson gaze fell on her but made no move to interrupt the ceremony just to press herself to his side.

the wedding to come... her eyes shut, relishing those words. it was no secret anymore the two were a mated pair, and with Tyranis' proposal to Paradise also, Heloise wondered if she would be attending not just her own wedding soon. she only hoped for the approval of the rest of Winterfell; her and Acere had known each other for two whole seasons. it felt like a lifetime. he had given her so much and there would be equal giving by the time their children were born. but for now, she was just a knight like any other. opening her eyes, she'd flit her gaze over the others in attendance before focusing back on their king. she gave him an encouraging nod but said nothing. she would wait, same as the others.

"SPEECH"
art + code by Kara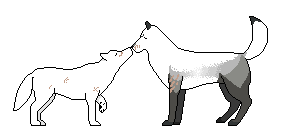 heloise has a

male gyrfalcon

named kresnik with a fifty-inch wingspan
always assume he is in threads nearby and in battles with her
as her love

acere praetor

is allowed in any of her threads regardless of tag