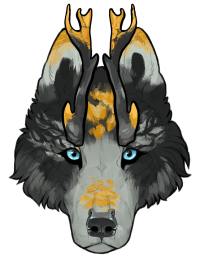 Tenshi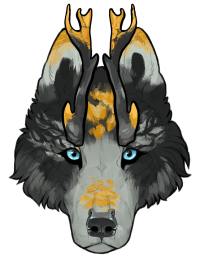 Spring of Year 13
birthdate

Swathed in grays that range from light silver to deep slate, Tenshi is one with her mountain surroundings. On her points is a warm orange-yellow that speckles and blends in with the thick greys covering her. Due to many years of her ancestors hiding away in colder regions, her fur is thicker than most to help shield from frigid temperatures. During summer, her coat always appears fluffier than most - even after shedding. Long powerful legs help carry the burliness of her body that is wide-set and muscular. The only defining feminine feature upon her is her elegant facial structure with piercing blues eyes. Atop her head, she adorns a set of small antlers that do not shed.

appearance

Descending from the tall mountains of the Kitami region, Tenshi can be known to be as chilly and jagged as her surroundings. Her elegant features are rarely marred by emotion as she prefers to keep them reserved for those closest to her. Motherly by nature, her fierce protectiveness guides any decisions she should need to make in volatile times.
Merciful at best, she cares not for drama and tends to keep to herself. With a broken heart still on the mend and a thirst for vengeance, one would say Tenshi is out for blood. The Yama clan has been known to house powerful chiefs with just leadership and a tight ruling over their lands. After a recent siege upon their home that ended with bloodshed, Tenshi seeks to right the wrongdoings upon her family.
Quick on her paws, adaptable, and tenacious, there isn't much that can catch her off guard. One would do best not to upset her. Tender toward her offspring and family, Tenshi does know when to be kind. Teaching is one of her stronger suits as she finds enjoyment when others succeed.
Scent Crisp Mountain Air, Warm Fur, Home
Voice Actor Romi Park
personality
Kita, Male, 24",
Snow Leopard
Fuji, Female, 24",
Snow Leopard
Aino, Male, 50" wingspan,
White Egret
Shuriken
, set of three, kept in leather armband tied around her left front leg (Offensive)
Set of leather studded
shoulder pads
(Defensive)
misc
Relations
Skills
Intermediate Fighter (30)
Advanced Healer (90)
Fight Form
Tenshi vs (opponent) for (fight type)
Round x/x
Age: (Only include: over 1 year, under 1 year, or under 6 months as applicable)
Size: Dire wolf
Build: Heavy
Offensive Battle Accessory: <a href="https://www.ardently.org/showthread.php?tid=38076">Shuriken</a>
Defensive Battle Accessory: <a href="https://www.ardently.org/showthread.php?tid=39143">Studded sholder pads </a>
Companion 1: <a href="https://www.ardently.org/showthread.php?tid=38077">Snow leopard, Male - Battle</a>
Companion 2: <a href="https://www.ardently.org/showthread.php?tid=38078">White Egret, Male - Flying</a>
*Companion 3: <a href="https://www.ardently.org/showthread.php?tid=39195">Snow leopard, Female - Battle</a> Mutation 1: <a href="https://www.ardently.org/showthread.php?tid=11617&pid=176032#pid176032">Antlers - Offensive </a>
Mutation 2: <a href="https://www.ardently.org/showthread.php?tid=11617">Thick skin - Defensive </a>
Skills: Intermediate Fighter & Advanced Healer

Racing Form
Tenshi vs (opponent) for Race
Round x/x
Age: (Only include: over 1 year, under 1 year, or under 6 months as applicable)
Size: Dire wolf
Build: Heavy
Skills: Intermediate Fighter & Advanced Healer

Tenshi vs (opponent) for Race
Round x/x
Age: (Only include: over 1 year, under 1 year, or under 6 months as applicable)
Size: Dire wolf
Build: Heavy
Skills: Intermediate Fighter & Advanced Healer