Tenshi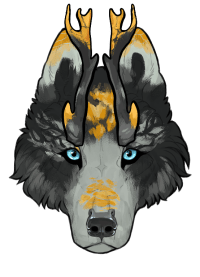 Spring of Year 13
birthdate

regal ❄ mountainous ❄ powerful
scent: crisp air, warm fur, home
voice: Romi Park
eye color: ice blue #6bb9d5
nose/paw pad color: slate grey
base coat: tenshi's base coat is not one singular color. swathed in greys, her base coat ranges in different shades from such a light grey that it is nearly white all the way to deep charcoal that is almost black. the light shades are focused along her spine, legs, face, and tail. the darker shades are focused around her neck, shoulders, sides, and thighs.
markings: overall, tenshi appears marbled like that of stone you would find up in the mountains. there is not a solid piece of color on her body that isn't mixed with another color near it. aside from her grey monochrome coloring, she also shines with an orange-gold color along her paws, tail, thighs, shoulders, bridge of her nose, forehead, and tips of ears and antlers.
build: curvy in a feminine sense but also thickly built like a tree. she is what one would imagine a mother to appear like. strong enough to carry an ox, but gentle enough to hold a baby bird. tenshi is a fortress that cannot be knocked down.
differences: her fur tends to be on the thicker side compared to others as she was raised in an upper mountain region.
scars/maims: na
appearance


❄ judge a man by his questions, not his answers ❄
elegant she moves like water running down the side of a mountain. each step is perfectly calculated on large paws that carry her with strength and determination. it takes a lot to make her stumble.

stoic emotion rarely creases her expressions as she prefers to reserve those she enjoys. it is better to keep oneself at bay around strangers than to show them your whole being. she is not careless, but one might see her that way as she keeps a straight face most of the time.

reserved words do not do much in this mortal realm for tenshi. quiet and reserved, she speaks only when necessary. as calculated as her steps, her words are just as calculative when she speaks. everything she says is meaningful and truthful as best as she can be.

vengeful scorn her loved ones, you have scorned her. surprisingly, tenshi knows how to hold a grudge until either she or you is buried six feet under. never forget and never forgive.

trustworthy tenshi is honest, brave, and loyal. she has never turned her back against someone, has never spoken poorly of someone behind their back, and has always kept her word. every promise has been carried out until she no longer has a debt to them.

motherly tenshi loves puppies and cannot ever get enough of them. she is tender, gentle, and stern with them and loves to care for the young ones. even with older wolves, she can tend to be slightly judgmental and scornful when someone acts childish.

adaptive while she grew up in the high kitami mountainous region, she has adapted quickly to the southern areas of auster. this is a surprising trait for tenshi that she hones the more she travels and experiences new areas.

decisive tenshi does her best to not hesitate. she is firm in her decisions and does not back down. while she is open, understanding, and a great listener, she is also set in her ways. these traits make her a great leader.

skillful tenshi spends most of her downtime learning new skills. she is fantastic at brewing tea, making her own tea sachets, crafting healing supplies, and sparring. the mountain woman is widely faceted in many skills and is always willing to learn more.
personality
MUTATION(S):
Antlers (Offensive), Thick Skin (Defensive)
COMPANION 1:
Kita
, 24" Male Snow Leopard
COMPANION 2:
Fuji
, 24" Female Snow Leopard
COMPANION 3:
Aino
, Male 50" Egret - Flying (Perception)
OFFENSIVE ITEM:
Shuriken
, set of three, kept in leather armband tied around her left front leg
DEFENSIVE ITEM:
Set of leather studded
shoulder pads
COSMETIC ITEM:
OTHER:
Dire Wolf, Odd Color Marking Pass, 2x Mutation
misc
Inventory listing
Icon
Name
Description
Details
Quantity
Dire Wolf Height Pass
Allows height up to 45" on a character.
44"
n/a
Minor Mutation Pass
Allows a single minor mutation to be applied to a new character.
Antlers (Offensive)
n/a
Minor Mutation Pass
Allows a single minor mutation to be applied to a new character.
Thicker skin (Defensive)
n/a
Odd Colored Markings
Allows a character to have minor markings that are unnatural colors.
n/a
1
Large Companion
Allows for a large companion less than 25" tall (for birds, wingspan of 50" or less; for reptiles, length of 50" or less).
Female snow leopard, 24"
n/a
Large Companion

[NR]

[NT]

Allows for a large companion less than 25" tall (for birds, wingspan of 50" or less; for reptiles, length of 50" or less).
Male snow leopard, 24"
n/a
Large Companion

[NR]

[NT]

Allows for a large companion less than 25" tall (for birds, wingspan of 50" or less; for reptiles, length of 50" or less).
Male egret, 50"
n/a
Battle Accessory - Defensive
A defensive battle accessory.
Set of leather studded shoulder pads.
n/a
Battle Accessory - Offensive

[NR]

[NT]

An offensive battle accessory.
Shuriken, set of three, kept in leather armband tied around her left front leg
n/a
Specialty Unlock

[NR]

[NT]

Unlocks a 2nd specialty slot permanently. Usable once a skill is fully mastered.
n/a
n/a
[NR] indicates a non-refundable item; [NT] indicates a non-transferrable item.
Show used items