Audra
Spring of Year 14
birthdate
*lineart/base belongs to bones <3
COAT COLOR
Starting at her paws, going up the backside of her legs to her underbelly and chest, to covering most of her cheeks and chin, and the tip of her tail is a medium tan. As the tan fades into a chocolatey brown on her legs, under her eyes, and two separate splotches on her hips, a deeper maroon covers most of the fronts of her legs, shoulders, and ears. Fading more into darker colors over her spine, top of shoulders, back of neck, and most of her tail is a mix of grey and black that ends going up and over her forehead, down the top of her muzzle, and ending at her black nose.
EYE COLOR
Bright, golden, honey-brown for both eyes that have darker edges around the iris.
HEIGHT
Standing at a short twenty-four inches tall, most of her height is in her legs.
BUILD
Carrying a light build, her legs are thin, her muscle tone is minimal, and she has small paws. During the summer months, her coat thins out considerably except for her around her neck - a few ribs can generally be seen during this season. In the winter, it does thicken, but not nearly as much as most others.
SCARS
No current scarring.
ACCESSORIES
Audra wears a small brown satchel made out of worn leather around her neck, it hangs right at her chest with a leather loop. It can fit small bundles of herbs and stones that she finds.
appearance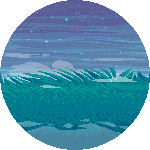 HEALING NATURE
At a young age, Audra has always been caring, motherly, and doting. While never really having anyone to call her "own," she yearns to one day be a mother. Gentle with pups, she is also a strong pacifist and flinches at the thought of bringing harm to others. This makes her a weak hunter and an unskilled fighter.
MEEK && SHY && NAIVE
Audra is young, bashful, and easily misguided. Her trust in others is naive in nature as she eagerly seeks out acceptance and belonging to a pack. Her mentality lies within the pack and she hopes to one day be of some use. Even at this young age, she wishes to be more sociable, but her small stature hides her in the crowd. Ever too trusting can be dangerous as she tries to see the best in everyone. Quiet with her words, she tries to be humorous in situations that make her uncomfortable. It is rare that she truly speaks her mind.
CURIOUS && INQUISITIVE
She may not be the smartest wolf of the pack, but she also is very accepting of learning new things. With her interest in becoming a skilled healer, her mind is open to any situation. Audra is a great mediator and listener which can be very helpful in disagreements between others. Often intimidated, this can hold her back from finding a place to call home. Quite often more observant than wanting to be the center of attention, she finds herself more comfortable in the background.
NATURAL NAVIGATOR
Due to her shyness and lack of ability to be bold, Audra finds herself wandering more than anything. This she also finds useful in her quest for knowledge in becoming a healer. Since she is small and limber, she is quick on her paws and can navigate through different terrains easily. Shying away from colder temperatures, you can normally find her in a hot spring, or a lush valley, or lounging on a warm beach.
personality
BLIND IN RIGHT EYE
- Spring, Year 17, 2021 Halloween Event. Audra has her right eye blinded by Firefly Man.
misc
History
Spring, Year 14
- Born
Fall, Year 14
- Parents die
Winter, Year 14
- Family band kicks her out, survives winter barely
Spring, Year 15
- Turns 1
Spring, Year 16
- Turns 2
Winter, Year 16
* Meets
Hattori
on Obsidian Beach * Meets
Mojito
to help search for herbs and willow bark * Meets
Bog
on the Rio Grande * Meets
Cairo
at Sunset Falls, is invited to stay with him and the Valhalla pack for the winter * Goes to
Druid's Moor
with Cairo, meets Aurielle and Ardyn * Becomes
friends
with Ardyn and selects her own den! * Received an
ice healing lesson
with Paladin and Legacy * Competes in her first
race
with Hanako and wins!! * Attends the
Pirate Pity Party
and has an amazing fun time...
Relations
Skills
Intermediate Healer (40)
Advanced Navigator (85)
Fight Form
Audra vs (opponent) for (fight type)
Round x/x
Age: (Only include: over 1 year, under 1 year, or under 6 months as applicable)
Size: Small
Build: Light
Disability:
Moderate - Partial Blindness
Skills: Intermediate Healer & Advanced Navigator
Audra vs (opponent) for (fight type)
Round x/x
Age: (Only include: over 1 year, under 1 year, or under 6 months as applicable)
Size: Small
Build: Light
Disability: <a href="https://www.ardently.org/showthread.php?tid=37200&action=lastpost">Moderate - Partial Blindness</a>
Skills: Intermediate Healer & Advanced Navigator

Racing Form
Audra vs (opponent) for Race
Round x/x
Age: (Only include: over 1 year, under 1 year, or under 6 months as applicable)
Size: Small
Build: Light
Skills: Intermediate Healer & Advanced Navigator

Audra vs (opponent) for Race
Round x/x
Age: (Only include: over 1 year, under 1 year, or under 6 months as applicable)
Size: Small
Build: Light
Skills: Intermediate Healer & Advanced Navigator