Ásvor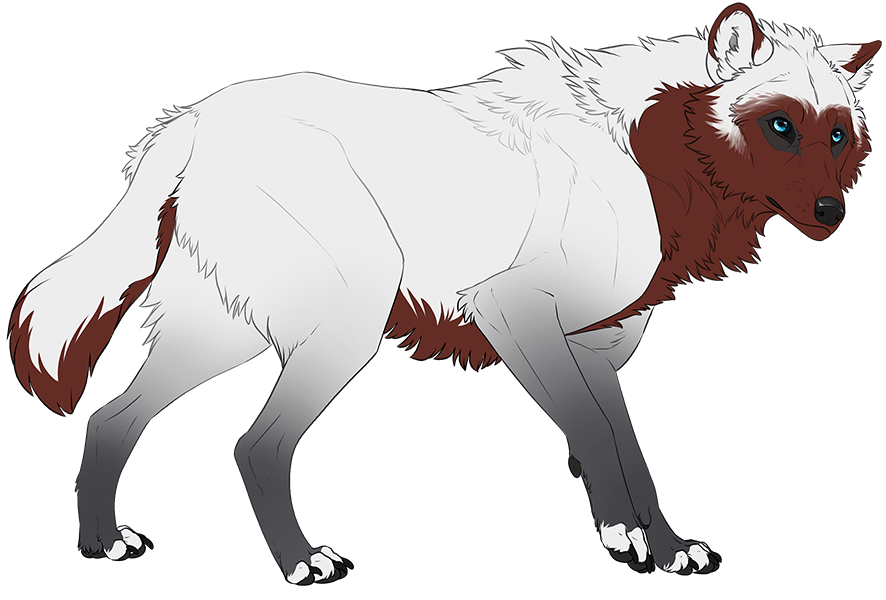 Ásvor, quite surprisingly, resembles neither her mother nor her father - not entirely, at least. Though her base coat is as pale white as snow, she deviates from the dark coloration of her mother and the dual tones of her father's pelt. She has inherited the rich red of her ancestors, and those vivid red hues begin at her face, covering it like a mask, and follow down to her chest and stomach. The color lines her underside, even to the tip of her tail.
Her paws are also jet black, and the color fades as it creeps up her limbs. Her eyes, a light sapphire blue, are also surrounded by jet-black markings. Her build will never be terribly remarkable - she errs on the more bulky side, though is not overly large nor lanky.
Armor: In fights, Ásvor often wears a Viking helmet.
Companions: A green female bush viper, named Jormungandr, can often be seen accompanying her, often riding on her back or shoulders.
appearance
LOYAL - One of Ásvor's defining traits is her loyalty to her family, firstly, and her gods secondly. While not the most outwardly religious, she does believe in a plethora of gods and believes honoring them is worthwhile. When it comes to her family, both her blood family and her chosen family, her loyalty is unwavering and she'd do anything in her power to protect them.
PROUD - Though Ásvor is fiercely proud of who she is, as she's gotten older her pride isn't something immediately recognizable (unless someone knows her well) - because she simply doesn't care what others think of her. However, she knows precisely what she's capable of, and rarely spends time worrying about failure or her own shortcomings.
INDEPENDENT - Having spent a fair amount of time on her own, Ásvor is independent to the core. She knows how to adapt and overcome whatever is thrown her way, and takes those challenges in stride, rarely fearful for what might come in her future. She rarely seeks others out for anything and is largely happy to keep to herself much of the time.
SELFISH - With her independence comes a fair deal of selfishness. Though one wolf in particular - Valdis - has managed to steal her heart, when it comes to most others, Ásvor is deeply selfish. Her morals are questionable at best; she does whatever benefits her and those close to her without much fear of consequence.
personality
Skills
Expert Healer (150)
Advanced Fighter (95)
Fight Form
Ásvor vs (opponent) for (fight type)
Round x/x
Age: (Only include: over 1 year, under 1 year, or under 6 months as applicable)
Size: Medium
Build: Medium
Offensive Battle Accessory:
Bladed forearm bracers
Defensive Battle Accessory:
Viking helmet
Companion 1:
Bush Viper, Female - Battle
Skills: Expert Healer & Advanced Fighter
Ásvor vs (opponent) for (fight type)
Round x/x
Age: (Only include: over 1 year, under 1 year, or under 6 months as applicable)
Size: Medium
Build: Medium
Offensive Battle Accessory: <a href="https://www.ardently.org/showthread.php?tid=33499">Bladed forearm bracers</a>
Defensive Battle Accessory: <a href="https://www.ardently.org/showthread.php?tid=27263">Viking helmet</a>
Companion 1: <a href="https://www.ardently.org/showthread.php?tid=27264">Bush Viper, Female - Battle</a>
Skills: Expert Healer & Advanced Fighter

Racing Form
Ásvor vs (opponent) for Race
Round x/x
Age: (Only include: over 1 year, under 1 year, or under 6 months as applicable)
Size: Medium
Build: Medium
Skills: Expert Healer & Advanced Fighter

Ásvor vs (opponent) for Race
Round x/x
Age: (Only include: over 1 year, under 1 year, or under 6 months as applicable)
Size: Medium
Build: Medium
Skills: Expert Healer & Advanced Fighter